perks of travel
in tacloban wednesday last week, i checked into a hotel-cum-museum fraught with world war ii history. in the days of the american-japanese battle, that hotel was a mansion converted into a makeshift hospital for the injured and the dying. over dinner, my friends who have been based there were kind enough to rub in the fact that the place is somehow notoriously haunted by the brave american and filipino soldiers under douglas macarthur's wing on the era he uttered "i shall return." of course, i appreciated it very much that he didn't while i was there.

so that night, i didn't get much sleep. but the scary stories weren't the only reasons. i dreamt of murder which woke me up three times in the middle of the night. and it was really bizarre that everytime i went back to sleep, the dream continued itself like some daytime soap... this phenomenon plagued me 'til 6am when i finally decided to get up for good because going back to sleep wasn't doing me much help.

at lunch, i told one of my friends about that dream. and that was that.

we decided to meet up again later for dinner.

after work, he cancelled on dinner, saying something came up so he had to meet with one of his dealers. why not after dinner? by all means.

so i stayed in the hotel and waited.

a few hours later, i suddenly get this unsettling sensation that something was seriously wrong. i call up this friend to somehow "check up" on him. he picks up with a distraught tone. his dealer was shot right in front of him.

ok..........

not point blank, though. in the middle of conversation amidst coffee and laptop, a hitman on a motorcycle rode past the cafe to fire several shots which coursed right through the glass panel. my friend sustained shrapnel cuts and bruises, but the dealer wasn't so lucky. he had to be collected by an ambulance.

after that unfortunate incident, i didn't expect to meet up with this friend anymore, but i couldn't seem to shake off that eerie feeling.

at 12 midnight, he calls to ask the room number where i was lodged into. in a matter of minutes, he shows up at my doorstep with his luggage. his boss got wind of the incident and apparently didn't want this guy traced into his apartment. with no knowledge of the hitman's motive, they thought he may still be in the line of danger. and besides, he's a witness now, what other justification do you need to go into hiding? he was instructed to fly to manila first flight tomorrow morning.

then he goes into proving how a guy in semi-trauma can expertly intensify a person's sleeping problems without really trying. he kept me up all night by pacing the floor, looking out the window, smoking in the bathroom and tossing and turning in bed. the most thrilling part is jerking abruptly from bed whenever his cell phone makes so much as a beep.

to make the situation even more exciting, this guy is seriously hypertensive. and it didn't alleviate my fear when i put my hand against his chest and i could feel his heart palpitating like crazy. he was feverish too. every now and then, he would sit up in bed and breathe heavily to ease his nerves. the last thing i needed was someone collapsing in a heart attack right in my room.

by 8:30am the next day, he got on a plane for manila upon his boss's orders.

i went to work in a semi-stupor. not because of the harrowing experience, but because i didn't get a minute of decent sleep.

some night.

on another occasion months ago, a young man was shot from across the street in front of our office in dumaguete. the bullet went right through our building's metal panels which served as "blinds" for our windows.

the dealer in tacloban survived with the help of surgery. the young man in dumaguete, DOA.

i should get a hefty hazard pay for all these nerve-racking experiences.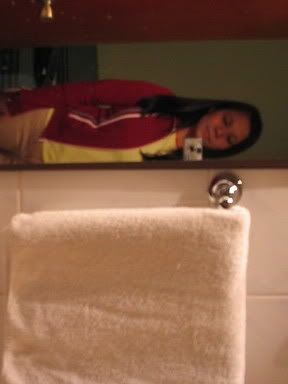 hotel bathroom shot. wala lang.